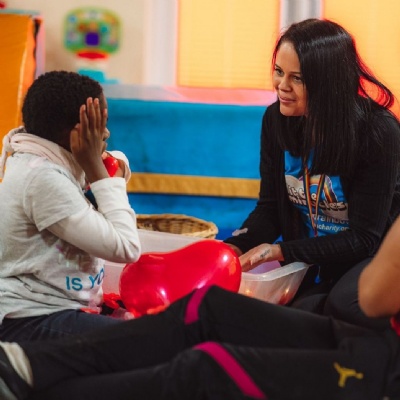 We won the CCVS Photo Competition!
Published 27/11/23, by Sophia Wakemen
We are happy to say that we are the CCVS 2023 photo competition judge's choice winners.
The story behind the photo is that too many families in the UK live every day with feelings of isolation, exclusion, judgement, stress and anxiety because the world around us is not set-up to help our children live life to their full potential. Just like everyone else, these children need a place to play, laugh and create friendships. At Little Miracles we provide this environment for children, whilst families can access the advice, support and care everyone deserves.
Our childcare team provide activities, advice and safe-spaces to the whole family even before they receive a formal diagnosis. This includes everyone - the children, their parents, carers and siblings.
In this photo, our centre manager, Nikita and a youth worker, Sam, are seen playing with R who uses these services offered to her and her family.
A massive thank you to photographer Nate Lansdell of Smile a Day Photography, who captured the image titled "We Are Little Miracles."
Read More