Companies

Help us to be there for every family
The support from our amazing corporate partners is essential to the survival of Little Miracles.
Our team can help you to develop a strategy that maximises impact for both your business and our families. Together we can help you fulfil your Environmental, Social and Governance criteria, provide team-building opportunities and publicly celebrate our partnership.
Companies that partner with local charities show loyalty, generosity and warmth, attributes which are greatly appreciated by customers and prospective employees.
We will publicise your support on our website, social media platforms, through PR oportunities and at networking events. We will ensure that other businesses are aware that yours is helping us to be there for every family when they need us most.
Your donation may also be eligible to pay less corporation tax on your charitable donation. For more information please visit the gov.uk website.
OUR NETWORKING LUNCH

Join us for our Little Miracles Charity Networking Lunch, an opportunity to network whilst learning more about the life-changing work we do at Little Miracles.
Our Networking Lunch is held every other month at the Holiday Inn, Peterborough - West, who are long-standing supporters of Little Miracles.
"At Holiday Inn Peterborough we pride ourselves on working with the local community to support and engage those most at need. Little Miracles is a fantastic local organisation that we have partnered with for many years, hosting events, raising money and supporting their desire to help young children and their families navigate the challenges they face. The work the charity do is second to none and is quite literally life changing.

We are proud to be continuing our long-standing relationship into the coming years"

General Manager, Ben Morcombe
View photographs from this event here.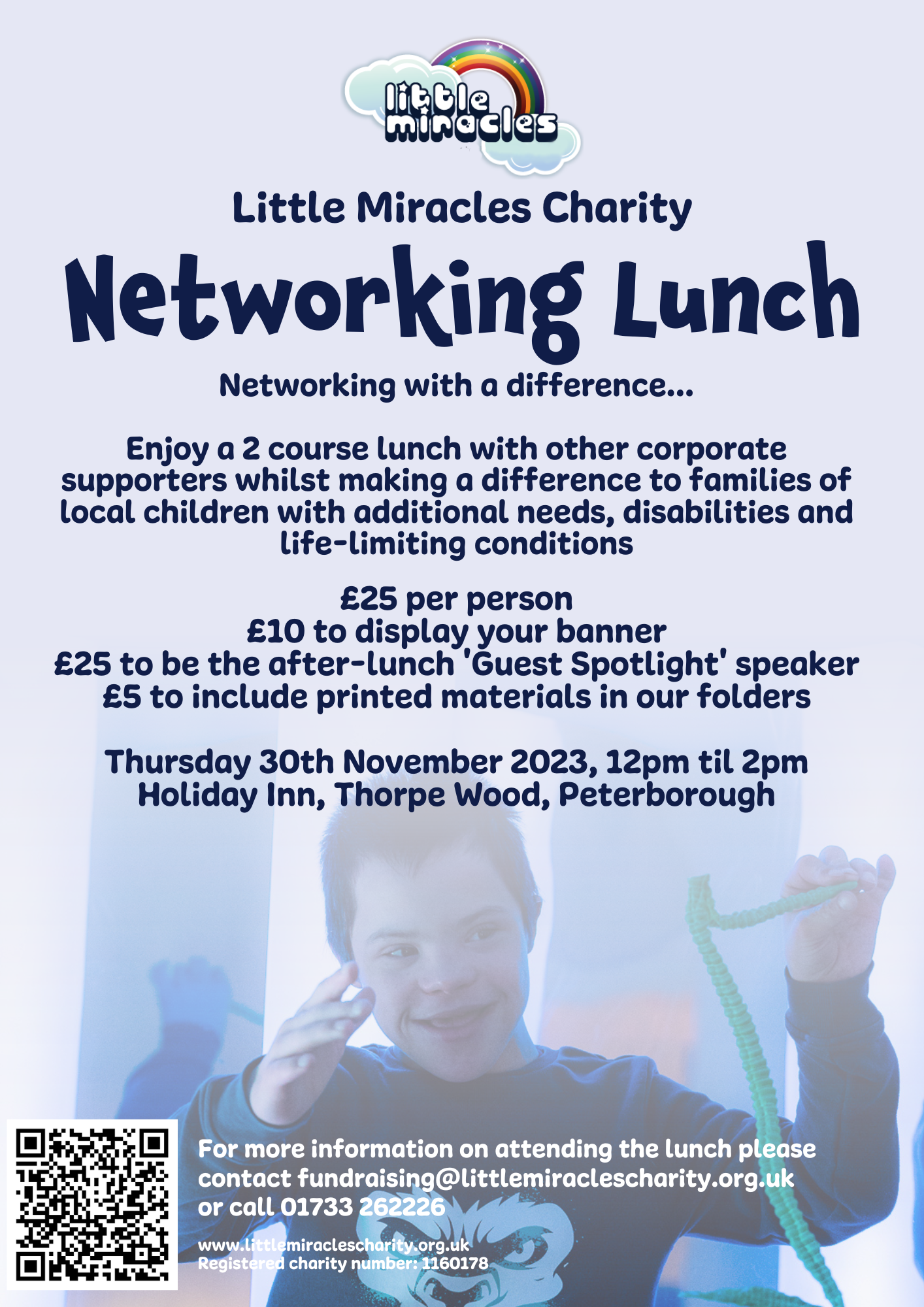 Make us your charity of the year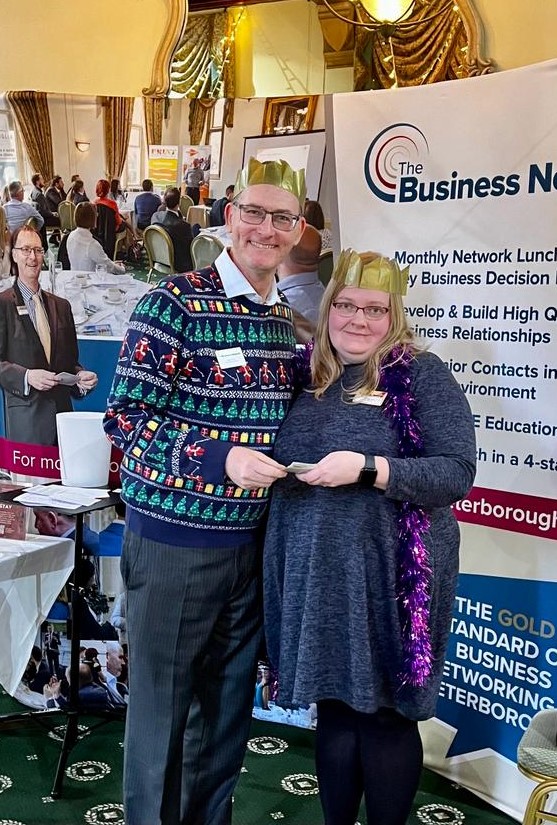 A 'Charity of the Year' partnership with Little Miracles will help boost staff morale, encourage team building and show both existing and future employees that you are committed to helping families with children who have additional needs, disabilities and life-limiting conditions.
Simon Coy of The Business Network made Little Miracles his Charity of the Year for many years.
"At The Business Network Peterborough we are once again delighted to be able to support Little Miracles as our Charity Of The Year for 2023. Little Miracles is wonderful charity supporting thousands of families across the region. Michelle and her team work incredibly hard to help a huge number of people and we are thrilled to have worked so closely with them for 8 years"
Email fundraising@littlemiraclescharity.org.uk to find out more.
OUR 'CHARITY OF THE YEAR' PARTNERS

our ambassador scheme

Regular donations allow us to forecast the number of families we are able to support. Our Ambassador Scheme helps us to plan our services whilst providing tangible benefits to your business.
"I am a great advocate in giving back what you can to the community you work or live in, so it is wonderful to be able to support a charity within our local community. We have been supporting Little Miracles since 2019 by joining the ambassador scheme, being able to organise charity event with our staff to raise funds and donate gifts. Little Miracles do such fantastic work and are able to offer such great services, we are honoured we can support them"

John Davidson, Managing Director Chiltern Cold Storage, Platinum Ambassador
There are many benefits for your company in joining our Ambassadorial scheme. You will have the opportunity to advertise your business at our events and build your CSR portfolio with photo opportunities and social media mentions, and our team will help you with bespoke team-building ideas.
Most importantly however, you will know that you are making a real difference to the lives of our families throughout the year and that we are using your donation where it is most needed as the needs of the children change.
Email fundraising@littlemiraclescharity.org.uk to find out more.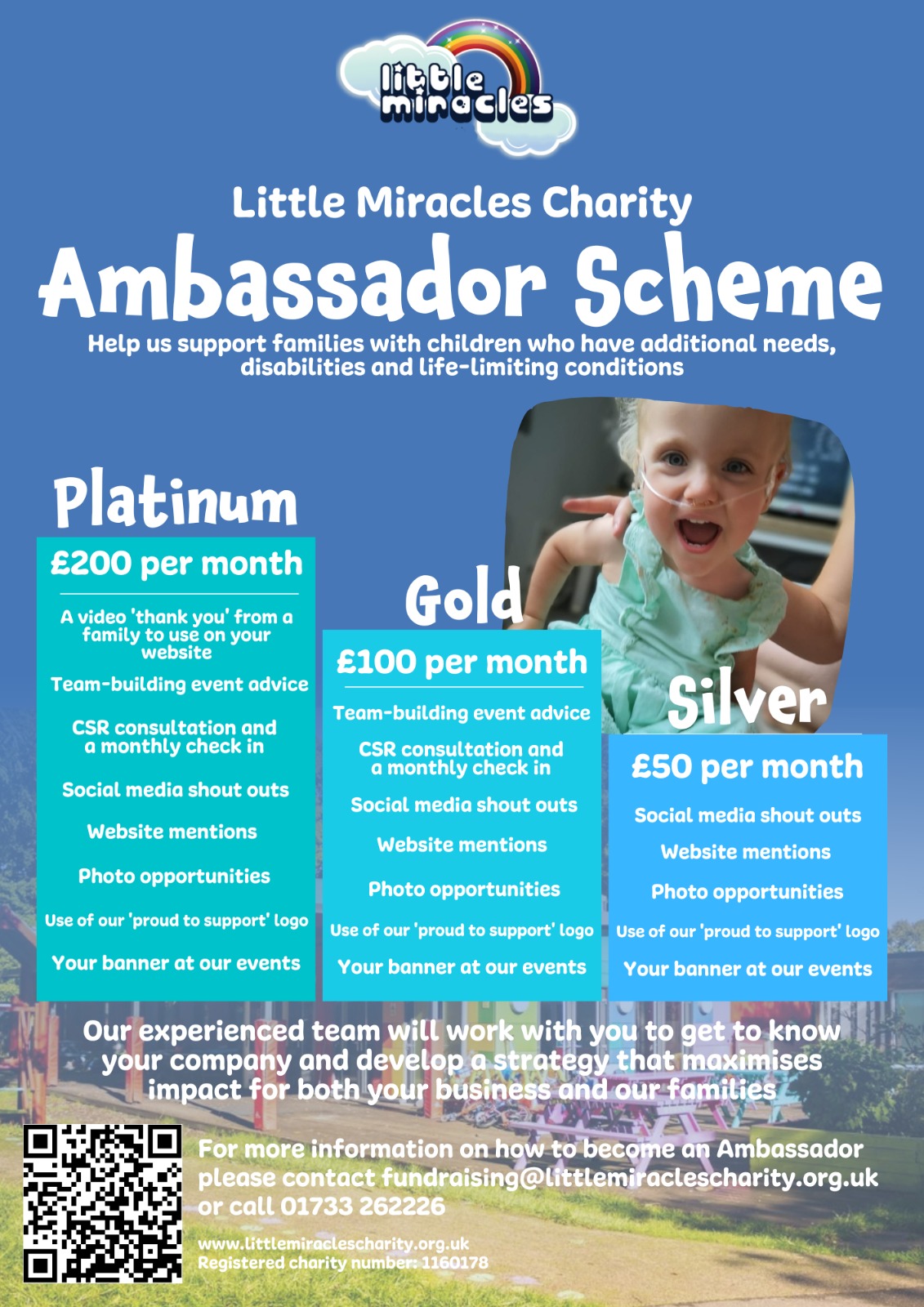 volunteer days
Over the last few years more companies have shown us support through skilled volunteering and pro bono opportunities.
This is a great way to increase employee engagement and staff retention, network and boost staff morale.
Regardless of the time of year, Little Miracles are always looking for help. In the past volunteers have participated in group activities like gardening, painting, cooking, cleaning, running events for the children, delivering training, fixing bikes, delivering food parcels and wrapping hundreds (and hundreds!) of presents.
We are blessed at The Spinney to have acres of protected woodland to play in. Some companies have even had a BBQ on-site at the end of their volunteering and turned it into a really memorable team-building day!
'Stephenson Smart were delighted to have been involved with supporting Little Miracles towards the end of 2022. The constant support that the Little Miracles team offer to the children and their families is very humbling, it's not just a 9-5 service they provide, it's around the clock and their enthusiasm never fades. We are looking forward to supporting the charity further throughout 2023'
Email volunteering@littlemiraclescharity.org.uk for more information.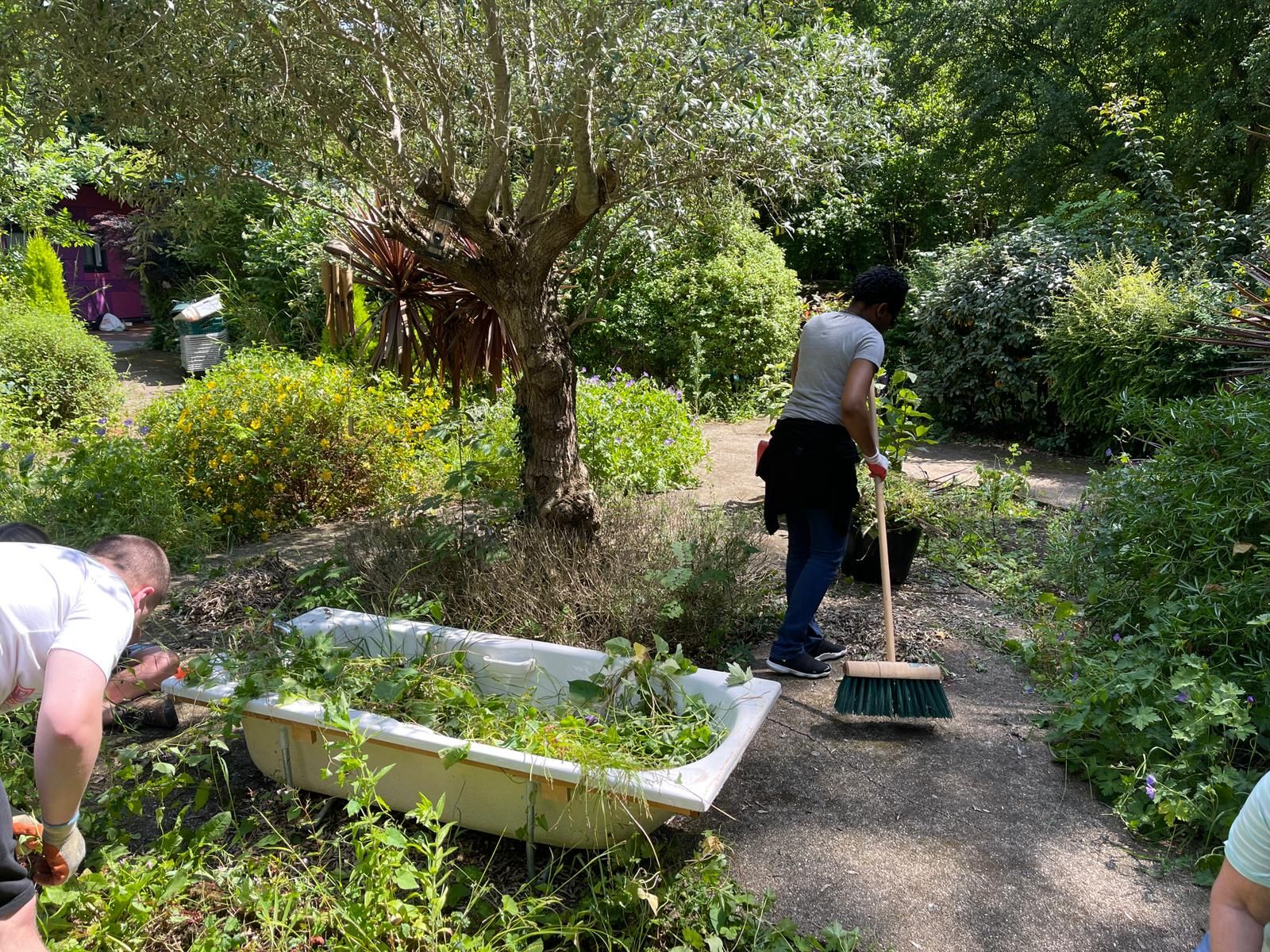 give a one-off donation

Whether as an annual gift or because you've heard first-hand about the difference your support would make, you will know that your donation will go directly towards helping our families when they need us most.
"Donating to Little Miracles from my business Links Recruitment Ltd was a meaningful for me. The contribution helps families with children who have additional needs, disabilities, and life-limiting conditions. It's great to see the positive impact of the charity on these children and families. I am fortunate to be able to make a difference and would encourage others to support the organisation as well"

Lisa Richardson, CEO of Links Recruitment Ltd gave £1,000 in December 2022 which will fund training for 50 volunteers who will work as counsellors, family and childcare support workers and provide hundreds of hours of care to our children and families in 2023.
Team building days and events are also a fantastic way to support us, and at the same time help raise morale and have some fun with your team!
Below are some ideas of how your company can get involved. Our fundraising team are here to help, please get in touch by emailing fundraising@littlemiraclescharity.org.uk or call us on 01733 262226.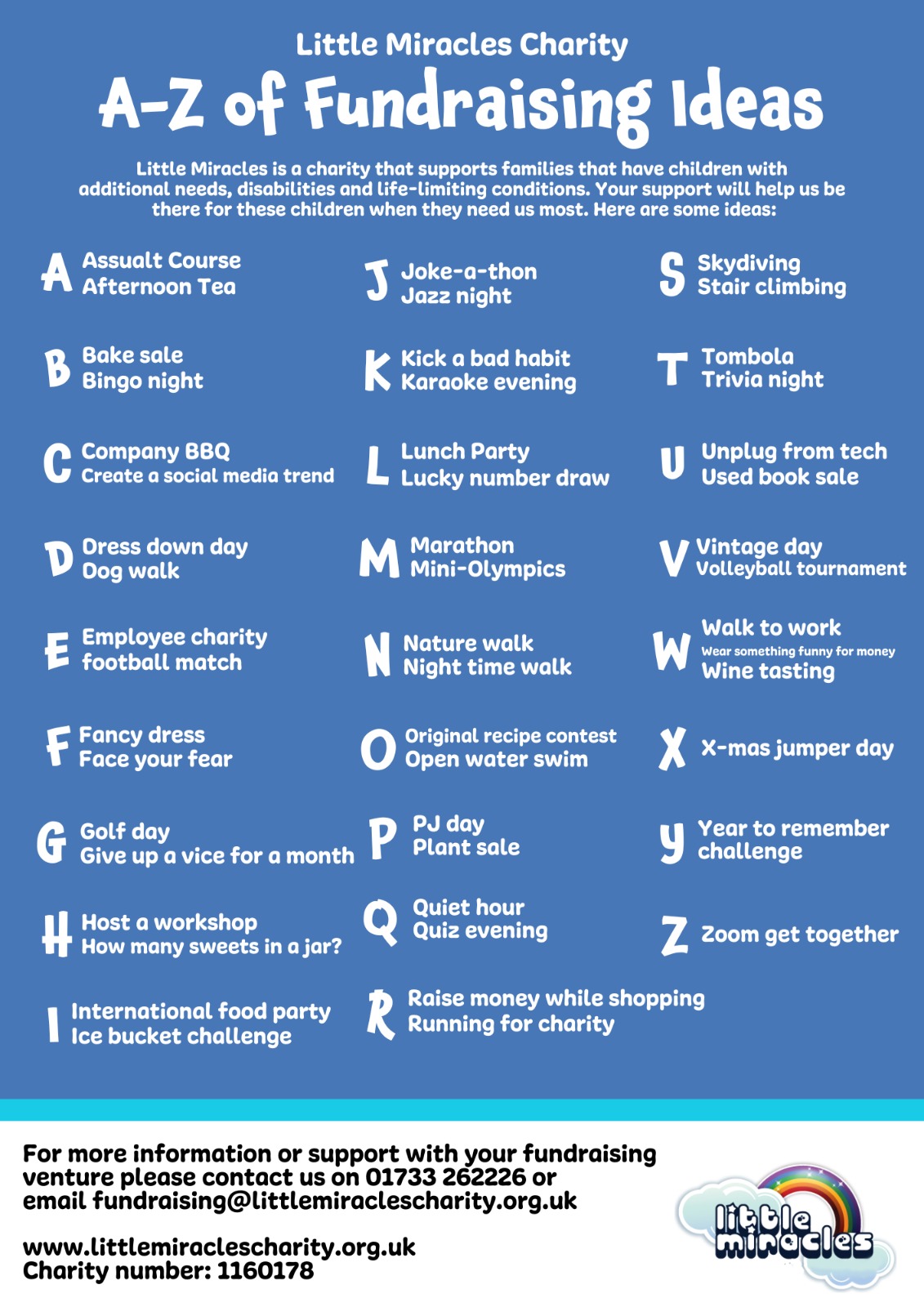 Tax benefits

Limited companies pay less Corporation Tax when giving to charity. They can claim tax relief by deducting the value of their donations from total business profits before paying tax.
Whether your company would like to make a one-off donation, make us Charity of the Year, volunteer for us or join our Ambassador Scheme, we would love to hear from you.
Please contact fundraising@littlemiraclescharity.org.uk, call us on 01733 262226 or use the button below.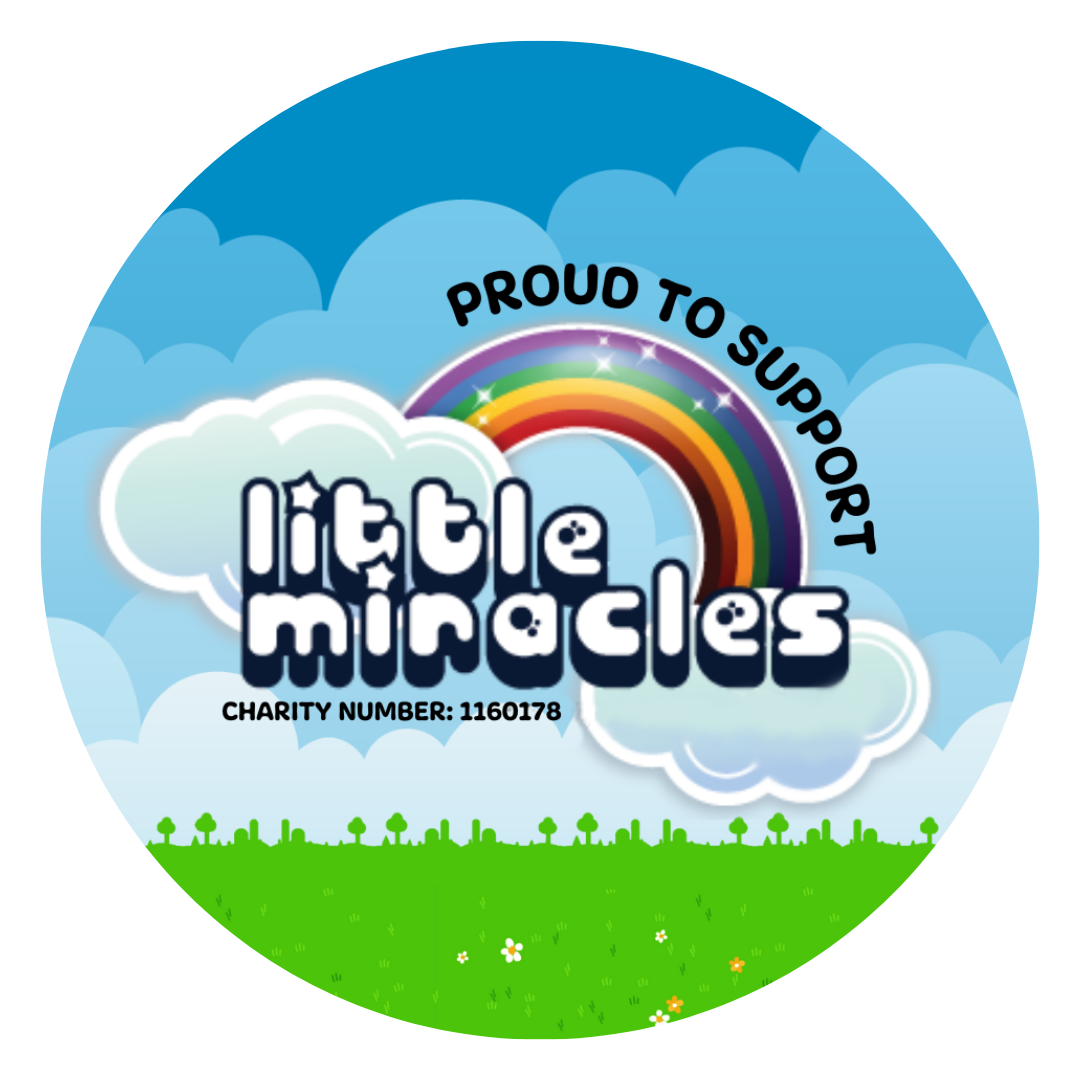 https://asmileaday.photography/
https://asmileaday.photography/
https://newhomesnaggingltd.co.uk/