Here's What We Got Up to This Summer...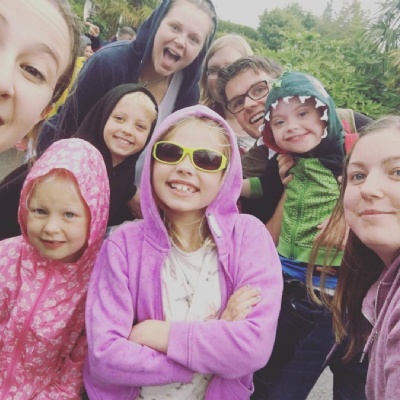 Summer 2017 was our busiest summer to date, we had over 2100 people come to the centre during August alone! We had activities on every day, we were open Monday-Friday 10 am to 3 pm and every Saturday 10am-1pm as well as lots of additional special activities and days out. We also provided lunch and a tuck shop daily which all the kids loved giving them a little bit of independence and teaching them about money.
We had 4 big trips on during the summer! The first being to the World Para-Athletic Championships in The Olympic Stadium, the families loved watching the races and games taking place as well as the shopping afterwards. The second trip was to Eureka National Children's Museum, the children loved learning all about science and there are some interesting photos of children inside giant noses. The next big trip was a trip to Maplethorpe which was a fundraising trip designed to cover its costs and as such was open to everyone. The children enjoyed being at the seaside and luckily the weather held out meaning we had a great time. The last big trip of the summer was to Legoland, all who went had a fantastic time, children had a great time and enjoyed the atmosphere of the theme park as well as having fun on the coach trip there and back although we did have some teething problems to get the ride access passes to work so families didn't have to wait in the queue but we got there in the end.
As well as the big trips out we also had daily activities on at the centre, these included things like an animal day where we had a visit by The Party Animals, they brought some amazing unique friends to play with including a racoon and a skunk and lots of reptiles, the children also loved the huge snake although the adults not so much. We also had a graffiti artist come in and teach the children how to make their own graffiti art boards that they took home with them, at the same time we had a DJ in the sensory teaching how to DJ using the computer and decks, they also put on a mini disco for all the children.
We had numerous days out to ferry meadows where the children learnt to sail, build dens, went on a bear hunt and pond dipping to name but a few things. On the last day of the summer holidays, we had a small trip out to Sacrewell farm, we enjoyed seeing all the animals and had a great informative tractor ride around the farm.
We had a fantastic summer and would like to thank you all for taking part and to the staff making it happen, as well as everyone who donated and fundraised in order to make it happen. We are now well into our Autumn term timetable with different weekly themes, sessions and activities please do get in contact if you want any details regarding any of the sessions.
We are also working hard to get the activities and trips out ready for October half term and preparing for our first international trip to Disneyland Paris – I am sure that there will be lots of amazing piccies from there.
As always none of this could be possible so please do consider making a donation.