Linx Printing Technologies Bank-Holiday Challenge Supports Local Charity, Little Miracles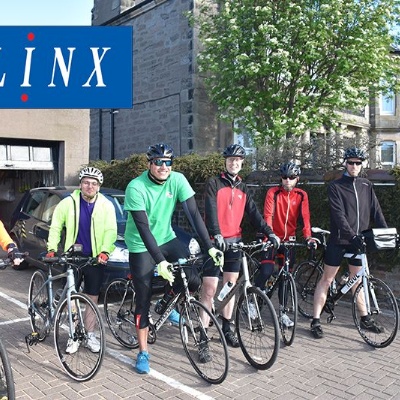 Linx Printing Technologies Ltd (based in Saint Ives) have organised and completed a large fundraising event for their Charity of the Year partner, Little Miracles (based in Peterborough). Little Miracles provides support to families that have children (aged 0-25) with additional needs, disabilities and life limiting conditions.
Linx staff spent six months preparing the fundraising event – a personal challenge for six cyclists (all Linx employees) who cycled 372 miles over four days (with over a 17,600ft climb) starting on the morning of 24th May and finishing on the evening of 27th May. The cycling event is the latest of a series of fundraising events organised by Linx for Little Miracles; this cycling event and a car wash has raised £1950 excluding GiftAid (which when claimed could raise as much as £2437).
Additional information and the route that was taken can be found at https://www.justgiving.com/fundraising/cyclemay2019.
(the figures included above are the actual amounts, not the ones on the justgiving page)
Sean Robson, Business Development Officer at Little Miracles said "The money raised is enough to provide a whole year of weekly two-hour sensory sessions at Little Miracles Peterborough's playcentre, The Spinney in Westwood. I'd like to thank the cyclists for their fantastic efforts, the event organisers for working out the logistics, all individuals and companies who supported the event, and of course everyone who donated. It is not too late to get involved – simply visit justgiving.com/fundraising/cyclemay2019."
Linx staff provided their own food, bikes and accommodation to increase the amount raised for Little Miracles. Linx the company sponsored the fuel for support vehicles as well as time for staff to prepare for the event. Perry's provided a minibus for cyclists to drive to the starting point in Scotland and a van for volunteers to travel in; all free of charge. Print Solutions provided vinyl signs to go on the support vehicles.
There are too many supporting companies to list but guesthouses that put the cyclists and supporting volunteers up for reduced fees and let them use their garages.
Below quotes were posted on Linx's Facebook page for the event.
• "We made it. 28hrs20mins, 372 miles later and over 17,600ft climb over the last 4 days"
• "Everyone is glad to have finished and it's been a real challenge"
• "Time to hit the showers and rest those weary legs!"
• "An awesome effort in pretty gruelling conditions"
• "the next 16miles was challenging but the views rewarding with fleeting showers"
• "shoes full of water and soaked to the bone"
• "The first glass of Pepsi didn't taste sweet"
• "I didn't do the views justice in the advertising for this event: stunning!"
• "tomorrow could be a washout!"
• "11 miles and 50 mins in, X crashed into a parked car! Don't worry the car is fine!"
Little Miracles and friends want to wish the key people for this event a massive thank you for taking on this challenge and helping us raise vital funds that keep the charity running!
Paul Gregory – Senior Electronics Engineer at Linx (main organiser and cyclist)
Lisa Hunter – Marketing Communications Manager at Linx (arranged with Little Miracles to have representatives come in and talk to Linx's staff, main point of contact for Little Miracles
Jorn Frank (he came over from Linx's German office just to take part in the challenge), Jamie Shelley, Tom Manwaring, Neal Gregory, Slawomir Kozubal – Cyclists
Stuart Hardy, Dan Barnes and Malgorzata Gorecka-Kozubal – drove the support vehicles and provided most of the catering and bike mechanics