Being a grandparent to a child with additional needs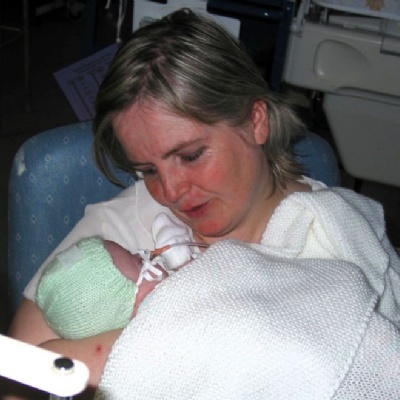 Before my first grandchild was born, we found out that he was going to be born with complex disabilities. I had experience with additional needs as my own child was also born with a disability. However, being a grandparent to an additional needs child was a whole new experience but I have since gone on to have a three out of my ten grandchildren have a disability of varying levels.
I was extremely worried about both my daughter and my grandchild. I was very fortunate my husband was there for me. Being able to talk to someone about your problems is both therapeutic and beneficial. The first time I saw my grandson I just fell in love with him completely. When I got to hold him, I was just like any other grandparent. I even had my photo taken and I wanted to show him off to everyone as soon as I got home. Yet nothing can prepare you for trying to support your own child when they are facing losing their own child. There are no books that you can read to make that situation better as a mother it hurts to see my child in pain yet know there is nothing I can say or do to relive that pain.
Unfortunately, I was barraged with questions: "will he make it?" "Will he be normal?" It hurt so much to hear all of this. I even cried myself to sleep a few times. Eventually, I just stopped telling my friends about when his next op was. It was just much easier to keep it private, only telling family because at least they understood how I felt.
One of the hardest days for me was when people came to look at my grandchild but they didn't see a child. They only saw the machines and his conditions and didn't treat him as a baby. I just wanted to shout at the top of my voice: "he is just a child, why are you doing this?!"
The highlight of Little Miracles is that the children can just be children. It is a joy to see them having fun and running around without any worries. I have been with Little Miracles for many years now and it is a pleasure to see my grandson play with the other children and be treated like a child. I am fortunate to have talked to many of the parents and grandparents at the start of their journey. I really hope it has helped them to feel like someone has been there for them, someone to talk to. Someone to listen.
When I am with other grandparents, we talk about grandkids and I am so proud of mine. They have achieved things the doctors said they never would have e.g. walking, talking etc. I have learnt so much, for example- using machines to keep them alive, to give inhalers for their asthma, to make sure they have the right cup for their drink (colours really do matter), to count carbs, to do blood tests and even give my grandaughter an insulin injection on her leg. For many they are worried about what the future holds, what to say and are scared to of upsetting their own child more but saying something is always better than saying nothing.
After all of this however, the biggest lesson I have learnt is that children won't listen to the doctors when they tell them they can't do something. They will always strive to achieve something even if it takes them a little while longer and my role is to support my children so that they can help my grandchildren reach their full potential. To be their sounding board and the person that they can rely on when they are not feeling strong and when they need to rant, shout and cry.
My grandchildren are all so special to me and they have learnt the biggest lesson of all. To see each other as friends and not be defined by their disability.