The 'Big Little Miracles Parachute Jump' 2023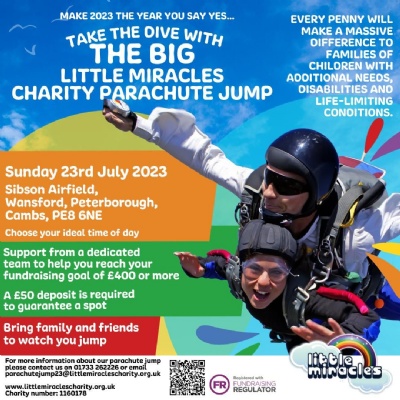 Why not make 2023 the year you say "yes" and join the Big Little Miracles Parachute Jump?
We are celebrating 10 years since the handover of our Head Quarters, The Spinney, from the DIY SOS Children in Need Team.
We want to get as many brave souls as we can leaping through the rainbow to raise as much money as possible for families of children with additional needs, disabilities and life-limiting conditions.
We only ask that you aim to raise a minimum of £400 in sponsorship (the jump itself costs us £240 - obviously more would be very gratefully received!), and our team will be there to help you with your fundraising every step of the way.
Please note that Saturday 22nd July is fully booked. We are now only taking bookings for Sunday 23rd July.
For lots of people this is a once in a lifetime opportunity. So go on... if not now, then when?