Little Miracles volunteer, Elizabeth Batterham, receives a Coronation Champion award from the King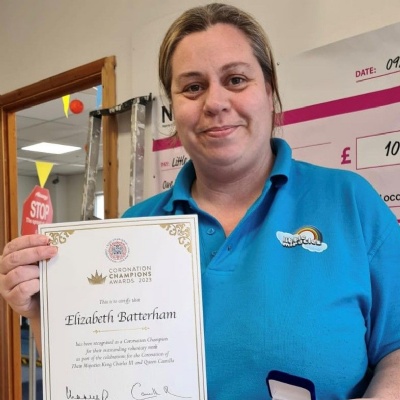 In April 2023 volunteer and Branch Lead, Liz, attended a very special awards ceremony at Windsor Castle.
Below, Liz tells us about how her Little Miracles journey began and about the incredible experience of the day itself.
"My journey started in 2015 when my son experiencing challenging behaviour and as a single parent I felt lost, alone and thought I had done something… after a long battle he was diagnosed with ADHD and we were signposted to Little Miracles in Peterborough who helped me through the start of my journey and in turn I returned to work. In 2018 I found myself leaving my job and starting a new venture with Little Miracles South Holland, doing whatever I can in my power to try and ensure another parent doesn't feel who I felt at the start of my journey. In December 2022 we opened a new disability support centre in Holbeach!

On 25th April the Royal Volunteering Service announced that I had been awarded as a Coronation Champion for the work I had done and as a result not only received an official pin and certificate signed by the King & Queen but had been invited to the Coronation Concert at Windsor Castle on 7th May!

The concert was amazing, my Mum accompanied me. We had the chance to meet Will & Kate beforehand and then had exclusive seating during the concert.

I love being part of Little Miracles, knowing you've made a difference to someone's journey is heartwarming, the people you meet along the way are brilliant… in June I have been in this position for 5 years and I'm incredibly proud of what has been achieved but never did I expect to win anything like this, I feel honoured "
Congratulations Liz, and thank you for all your hard work which has made an enormous difference to local families of children with additional needs, disabilities and life-limiting conditions.