Icons and Rebels launch 'I Believe in Magic' Tee for Little Miracles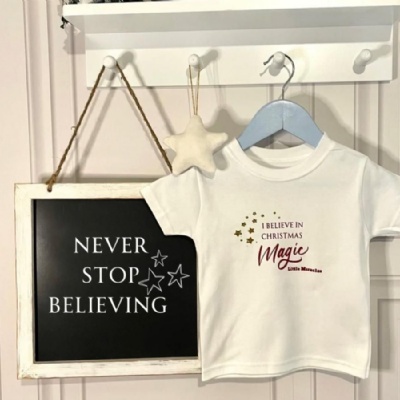 Launched in September 2023 by mum Sarah Weston, Icons + Rebels was created to bring affordable and stylish designs for both girls' and boys' fashion without the need for fluffy bunnies.
Designed & produced in their studio, the collections range from newborn - 6 years of age and many pieces can be personalised for that extra touch.
Their signature style is a mix of luxe colour palettes for an understated look, so kids can feel comfortable and ready to just be their best selves.
Icons + Rebels London is proudly supporting Little Miracles by donating 25% of the profits of their 'I Believe In Christmas Magic' Tee Shirt.
Founder Sarah Weston recently attended Networking Lunch and was blown away by the dedication and hard work of the team.
"It was extremely moving hearing the stories of the children and how they have been helped through the generous donations.

As a new business, I feel very strongly that Icons + Rebels has a purpose more than just selling our products. We want to be a cause for good and give back to amazing charities.

The Collection has been designed by us with love and is hand-printed in our Icons + Rebels studio. You can choose the Tee which comes in sizes 0-6 years and our baby bodysuits newborn -12 months"
Tee's are priced at £14 and baby bodysuits £12 with 25% of profits going to Little Miracles. These are available to pre-order now from their store.
We are incredibly grateful to Sarah for choosing to donate to us. Every penny raised will help us to be here for more families of children who need support over the winter. Thank you.